OMNiPOWER™ 3200 is the next evolution of our autonomous power platform. It features mechanistic, functional, and aesthetic upgrades. The new Tier 5 engine has increased horsepower and the machine's hydraulics system has been optimized, adding 50% more power to the ground to improve operating speeds. The 3200 model features improvements to serviceability, making it easier for customers to work on the machine in the field.

OMNiPOWER™ 3200 lets the farmer remotely operate the unit from a tablet or in autonomous mode. No driver necessary.
---
---
RICH IN FEATURES
Remote command, supervision, and monitoring in the field or another cab
Completes spreading and spraying tasks autonomously
Multi-directional moving, multi-purpose machine that delivers effortless implement changeover
Short- and long-range sensors detect obstacles for safe operation
Can be run in autonomous mode in fields or by handheld remote control in yards or equipment sheds
BOLDLY GROW WITH OMNiPOWER 3200
---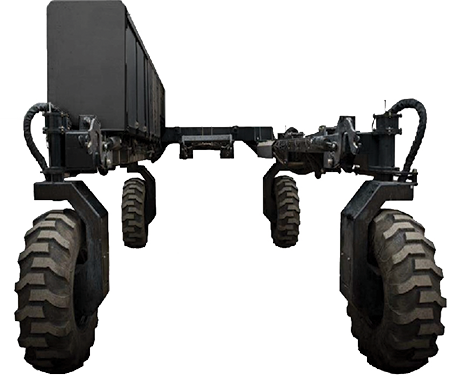 THE POWERED-UP POWER PLATFORM
Reinvented mechanical improvements, including new engine and hydraulics
Increased engine horsepower
More power to the ground
Increased serviceability, making autonomy more accessible
Increased up-time
improved operation speeds
Updated look and style
WE INNOVATE FOR OUR CUSTOMERS

"I'm really happy to see Raven continuing to invest in the product, continuing to improve it. The increase in efficiency of hydraulics and horsepower will enable the machine to run faster. The increased engine horsepower should allow more options for implements and more potential for implement development in the future."
Chuck Baresich


"We recognize that our customers are facing very short windows regardless of where they are in the crop cycle and they need to get in and out and do that operation. So reliability and uptime are key focuses that drove the significant improvements for OMNiPOWER 3200."
Eric Shuman


"The opportunities presented to me is what makes me excited about the future of autonomy in agriculture. I think if we look at where Raven is at with autonomy in ag, it makes me think of Henry Ford, an early Detroit or Glenn Curtis and the Wright brothers."
Chuck Baresich


"With the 3200 launch, it's really about listening to our customers and incorporating that feedback that was most important to them to deliver. It's a very versatile platform now that will allow us to bridge it into new applications."
Dominic Walkes

Your Path To Autonomy Level 1: Precision Farming Technology
Machine Level Automation
Integrated technologies communicate and execute individual missions, simplifying operation. Connectivity is leveraged to coordinate and sync field tasks across multiple machines. Level 2: Coordination & Optimization
Task Level Automation
Each technology is operated independently. Take the first step by adding a single automated system to your equipment. Level 3: Real-Time Automation
Environmental Level Automation
Technology controls basic guidance and application based on environment conditions. Real-time machine automation drastically reduces operator fatigue. Level 4: Supervised Autonomy
Field or Mission Level Automation
The operator executes outside of the machine. The machine is directly supervised in the field. Drives on it's own, enabling the operator to get out of the cab and focus on other priorities. Level 5: Full Autonomy
Enterprise Level Autonomy
Remote driverless technology, with no in-field operator required. The fully autonomous farming future.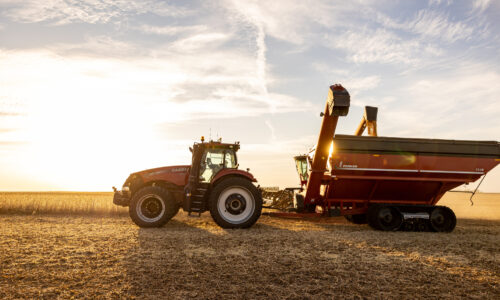 OMNiDRIVE™
The first driverless ag technology for grain cart harvest operations. It allows the farmer to monitor and operate a driverless tractor from the cab of the harvester.
Learn More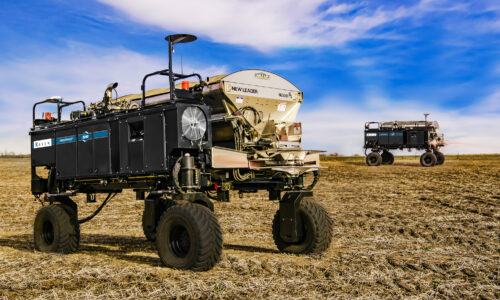 OMNiPOWER™
The self-propelled power platform that easily interchanges farm implements. It lets the farmer remotely operate the unit from a tablet or in autonomous mode.
Learn More
Become an OMNiPOWER™ Partner
We are looking for validation support partners and diverse implement prospects. Reach out to us and boldly drive forward on the Path to Autonomy today.