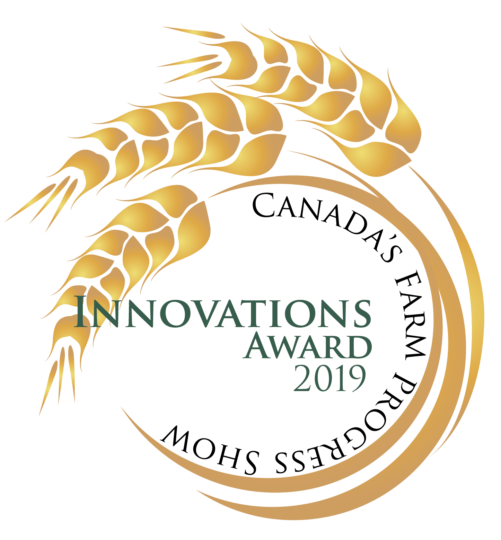 Raven is honored to receive the Gold Standard Innovation Award for AutoBoom® XRT. Pictured are Steve Nahorney and Chris Doucette, Account Managers, who received the award on behalf of Raven.
Winners of the 2019 Innovation Awards were announced at the opening ceremonies of Canada's Farm Progress Show on Tuesday, June 18, 2019.
The Canada's Farm Progress Innovation Program recognizes companies that the continue to invent and re-invent. Their goal is to ensure innovation in the agriculture industry remains a strong and driving force behind Canada's economy. More information about the Innovation Center and Awards can be found here www.myfarmshow.com.
The purpose of AutoBoom XRT is to provide boom height control over challenging terrain to increase sprayer efficacy. AutoBoom XRT is the first to use radar sensors to measure the distance to the canopy and distance to the ground. Comparatively, other products may use ultrasonic sensors – technology now over 20 years old. First used by the automotive industry, radar sensors have recently become more affordable, enabling Raven to bring this emerging technology into agriculture.
AutoBoom XRT's MR dampers allow users to vary the boom suspension over different terrain. Other boom control is built for a single type of terrain, while MR dampers can be used for varying terrains over a wider variety of regions.
AutoBoom XRT offers more control with machine lookahead. Sensors view what the machine is doing and proactively pick up the boom when machine roll is detected. Other products offer a solely reactionary approach.