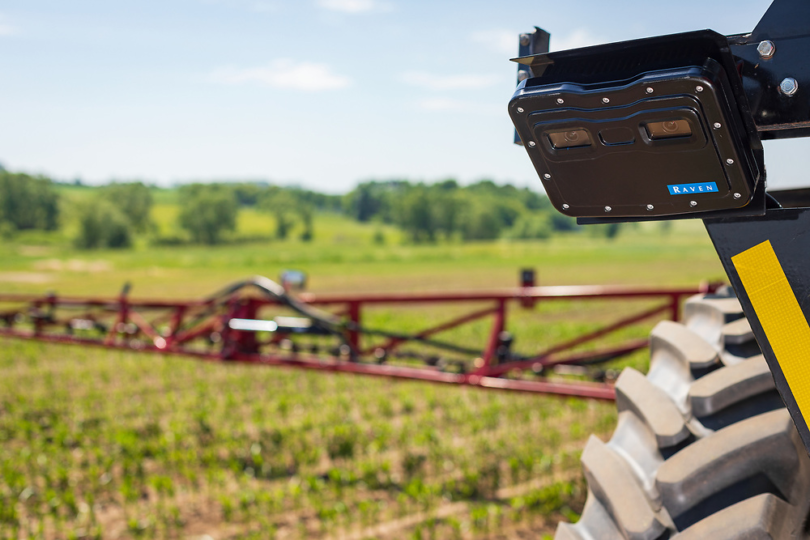 VSN® transforms machine guidance through emerged crops. This patent-pending innovation utilizes a non-contact stereo vision camera to navigate crop rows, allowing the operator to focus on all other aspects of effective application control. Minimizing crop damage, covering more acres in a day and essentially providing an easier machine operation leads to a quick return on investment to maximize yield profitability.

Reduces operator fatigue
Enhanced steering control and simple operation results in minimal crop damage and more acres covered in each available day
Operates at high speeds, up to 20 mph
Operates in challenging terrains, with demonstrated success in areas exceeding 8° of slope
Maintains row guidance in crops from less than four inches to nearly full canopy
Quick, one-time calibration with up to five saved profiles for easy crop transitions
Proven in corn, soybeans, cotton and sorghum
Confidently Apply in Full Canopy Crop
VSN's new advancements help operators confidently and accurately operate machinery in additional types and stages of crop. Paired with the VSN visual guidance camera, VSN Full Canopy utilizes non-contact radar sensors to guide the machine in full canopy crop. This proactive approach precisely steers the machine at speeds up to 20 mph. This first-to-market, non-contact, multi-sensor approach maintains sub-inch accuracy through varying crop conditions.
Allows the operator to cover 20% more acres due to increased speed, enables more efficient field planning, and ease of use
Reduces driver fatigue, allowing operators to increase the average length of their work day
Drastically reduces crop damage and misapplication in the field, which can cost growers yield and profit of up to 2%
Outperforms and is easier to use than expensive/complicated RTK networks
Features & Benefits
Software
Three Modes of Performance
Competitor Comparison
What VSN users are saying

"I've been spraying for over 9 years and started this season a couple weeks ago using VSN on a RoGator C series. I've covered 5,000+ acres in the past 2 weeks and have seen a lot less crop damage when I use it. I really enjoy it — when I see a curve, I know VSN can take it, and I just let her rip. I can watch my nozzles without drifting because it stays in the rows no matter if they are straight or contour."
Dave Doorman
Operator

"When driving in tasseled corn, I'm usually worried about how much I'm potentially going to run down — but the VSN has taken the human error completely out of it. By taking away the steering aspect, [VSN Full Canopy] has given me the ability to watch the machine and watch what I'm doing, even coming into the end rows."
Dave Nelson
Operator

"It's so much easier on the operator. At the end of the day, you're not as fatigued, and you can pay more attention to your tips and obstacles in the field. It helps you keep your boom out of the dirt and your equipment off the crop."
Jason Bolsen
Nutrien Ag Solutions
Featured Videos
#RavenSpraycation Testimonials 2021
It's official! The #ravenspraycation contest has come to a close and we've selected our winner. Congratulations to this year's winner, Mark G.! Mark submitted video testimonial sharing his experience with Raven VSN visual guidance technology. And that video won him a free trip for two to Club Med in St. Lucia, Florida!
VSN® Full Canopy with Dave Nelson
Watch VSN® in full canopy crop with Dave Nelson. With VSN, machine operators can cover 20% more acres due to increased speed from no longer requiring manual steering.
VSN® Visual Guidance for Raven Autonomy
Luke Pucket, Raven mechanical design engineer, explains what VSN is, how it works, where it fits within our autonomous solutions suite, and benefits of the technology.
Introducing VSN® Visual Guidance
The new VSN® visual guidance system uses a state-of-the-art image sensor and processing technologies to deliver a quick response rate and better control providing the ability to maintain row guidance at higher speeds and in crops from less than four inches to nearly full canopy.