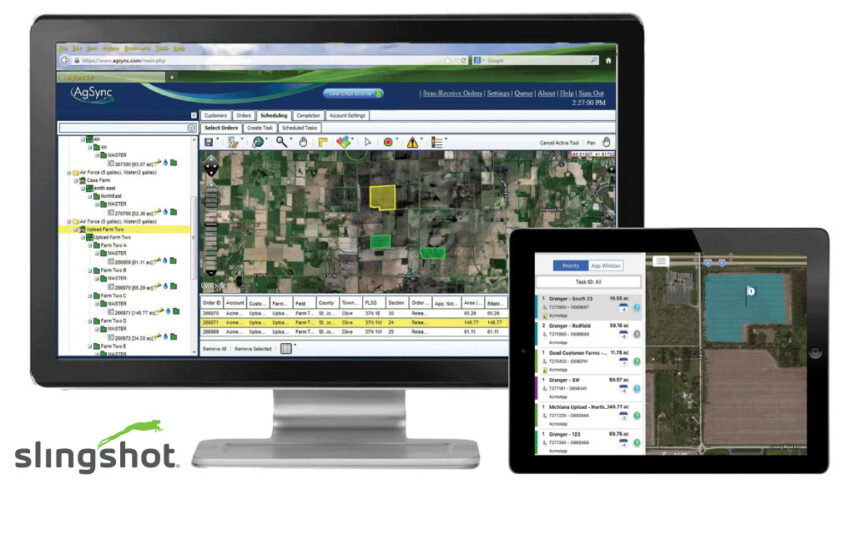 AgSync also delivers innovations for ag retailers, aerial applicators, foresters, seed companies, and enterprise farmers to meet and beat the tough assignment of managing large fleets, multiple locations, limited personnel and more.
With the brawn of AgSync's feature set added to our industry-leading connectivity and data transfer, Slingshot sets the standard for planning, compliance, efficiency, accuracy, flexibility, support, safety, insight and more.
A flexible, scalable, and connected toolset that fits perfectly with Slingshot's data transfer power. Our logistics system streamlines the way your agribusiness works, communicates, and adds new value to partners. More than 10 years of customer success proves AgSync's ability to reduce costs, improve efficiency, and maximize the utilization of every asset.
Work Order Management
Field Mapping
Organized Field List
Work Order Creation
Work Order Approval
Contract Approval
Service Provider Assignment
Sensitive Drift Areas
Record Compliance
Dispatch & Asset Control
Schedule Work Orders
Assign Personnel
Assign Equipment
Monitor Work
Monitor Assets
Monitor Personnel
Application Tracking
Application Details
Reports & Notifications
Live Work Order Updates
Spatial Activity View
Job Status Notification
Traceability Reporting
Application Record
Compliance
Completion Approval
API Web Service
Avoid Duplicate Entry
ERP Order Exchange
ERP Order Updates
Agronomy Ordering
Guidance System Exchange
ERP Invoice Creation
Integration Support
---
With Slingshot®, aerial applicators gain the same flexible, scalable, connected toolset that ground applicators enjoy. This tech platform can reduce costs, improve efficiency, and maximize the utilization of every type of asset, whether it is in the air or on the ground.

---
Slingshot Subscriptions